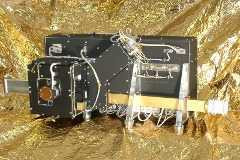 The COSIMA instrument is built by the company vH&S as prime contractor to the Max Planck Institute for Extraterrestrial Physics, Garching.
The Max Planck Insitute for Solar System Research, Göttingen, has the scientific lead for the COSIMA experiment.
COSIMA Contact
To request more info, please write E-Mail to:
Dr.-Ing. Hartmut Henkel, E-Mail: henkel @ vh-s.de
Press Releases
COSIMA Poster
Here you can download a COSIMA poster (english). This was originally presented at the EGS-AGU-EUG joint assembly in Nice, France at 10 April 2003, then updated and extended. The current revision, rev. 1.101, is from 1 October 2003. The poster is available in two different resolutions.
Please contact us, if you require the poster in another size, or if you need a large-scale printout for your institution.
Photos
COSIMA Links
Here you find links of our partners: